Overview
Widely used in urban power grid reconstruction, residential quarters, high-rise buildings, industrial and mining, hotels, shopping malls, airports, railways, oil fields, docks, highways to provide time and temporary electricity.
Model Meaning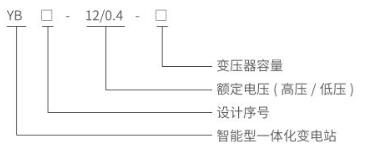 functions and characteristics
High-voltage switchgear, transformer, low-voltage switchgear trinity, complete set of strong;
◇ Perfect high and low pressure protection, safe and reliable operation, simple maintenance;
It occupies less land, investment province, short production cycle, easy to move;
Flexible wiring scheme;
◇ Unique structure: unique honeycomb structure double-layer (composite board) shell is firm, heat insulation, heat dissipation and ventilation, beautiful appearance, high protection level, shell materials are stainless steel alloy, aluminum alloy,cold rolled plate, color steel plate optional;
◇ Various types: general-purpose, villa-type, compact and other styles;
◇ The network automation terminal (FTU) can be assembled in the high-voltage ring network cabinet to realize reliable detection of short circuit and single-phase grounding fault, and has "four remotes" function, which is convenient for automatic upgrading of distribution network.
Transformer
intelligent integrated substation adopts low-loss, oil-immersed, fully sealed S9, S10 and S11 series transformers, and can also choose resin insulation or NOMEX paper insulation environmental protection type
Dry-type transformer, the bottom can be equipped with a trolley, and the transformer can be easily accessed.
high pressure side
intelligent integrated substation is generally protected by load switch-fuse combination electrical appliance. After one phase of fuse is fused, the three-phase linkage trip is made. The load switch has air pressure type,Vacuum, sulfur hexafluoride and other types are optional, and can be equipped with electric operating mechanism to realize automatic upgrading. The fuse is a high-voltage current-limiting fuse with impactor, reliable action and large breaking capacity,are shown in the table below. For transformers above 800kVA, QCE4, QCE2,QCE1 and other vacuum circuit breakers can be used to protect them.
Low pressure side
The main switch on the low-voltage side adopts universal or intelligent circuit breaker for selective protection; the outlet switch adopts a new type of molded case switch with small volume and short arcing, up to 30 circuits;intelligent automatic tracking reactive power compensation device, there are two kinds of contactor and non-contact switching mode for users to choose.
Implementation standard
This product meets the following standards:
◇ GB/T17467-1998 "high voltage/low voltage prefabricated substation"
DL/T537-93 "6-35kV box-type substation ordering technical conditions"
load switch
Serial Number

Name

Unit

FKN12-12

load switch

FZN25-12 vacuum

load switch

1

Rated voltage

kV

10

2

maximum working voltage

kV

12

3

Rated frequency

Hz

50

4

Rated current

A

630

5

Rated breaking load current

A

630

6

thermal stability current (effective value)

kA/S

20/2

20/4

7

Dynamic stable current

kA

50

50

8

short-circuit closing current (peak)

kA

50

50

9

Full load breaking times

times

20

10000

10

mechanical life

times

2000

10000

11

1min power frequency withstand voltage (interphase and ground)

kV

42

42

12

Lightning impulse voltage (relative to ground)

kV

75

75
high voltage fuse
Serial Number

Rated voltage

(kV)

breaking current

(A)

breaking current

(kA)

melt (A)

British Model

Domestic Model

SDL*J

12

40

31.5

6.310 16 20 25 31.5 40

SFJ*J

XRNT-12

12

100

31.5

50 63 71 80 100

SKL*J

12

125

31.5

125
* Note: It is determined by whether the impactor is installed. N is without a striker and A is with a striker.
| | | | |
| --- | --- | --- | --- |
| Serial Number | release form | trip rated current A | On-off capacity KA(AC380V) |
| DW15-630 | | 315,400,630 | 40 |
| DW15-1000 | | 630,800,1000 | 50 |
| DW15-1600 | thermal-electromagnetic or electronic type | 1600 | 50 |
| DW15-2500 | | 1600,2000,2500 | 60 |
| CW1-2000 | | 630,800,1000,1250,1600,2000 | 65(80) |
| CW1-3200 | intelligent | 2000,2500,3200 | 100 |
installation, use and maintenance
After the product is installed in place, it should be reliably grounded; the two main grounding terminals on the channel steel of the base of the power station,
The neutral point of the transformer, the shell and the lower pile head of the lightning arrester shall be grounded by the installation department respectively. All earthing shall share a set of earthing devices, and the earthing resistance shall be less than 4 ohms,
There shall be no less than two grounding leads from the grounding grid to the product.
After installation or maintenance, the following items shall be inspected and tested before commissioning:
whether the on-off of the auxiliary contact of the electrical appliance is reliable and accurate;
meter and relay act correctly;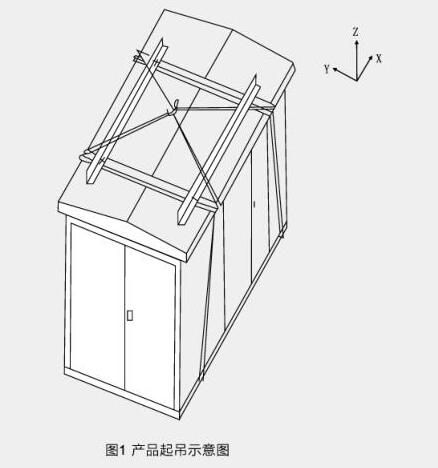 Whether the transformation ratio and wiring polarity of instrument and transformer are correct;
: Whether all electrical installation nuts are tightened and whether the installation is firm and reliable;
◇ Whether the bus connection is good, and whether the supporting insulator and clamp are installed reliably;
Whether the setting value of electrical appliances meets the requirements and whether the fuse core specification is correct:
Whether the contacts of the main circuit and auxiliary circuit meet the requirements of the electrical schematic diagram.
◆ Maintenance
All components in the product are maintained according to their respective technical requirements:
If the selected transformer is oil-immersed, oil sample analysis and inspection shall be carried out at least once a year according to regulations;
◇ After 20 on-load or 2000 off-load switching operations for high-voltage side switchgear in operation, check the contact condition and the loss degree of arc extinguishing device, and find abnormality should be timely maintenance or replacement.
◇ After the automatic trip of low-voltage switchgear, the cause of the trip shall be checked and analyzed, and the operation can be resumed only after the fault is eliminated;
The lightning arrester should be a preventive test every year before the arrival of the thunderstorm season;
* The product is accompanied by a packing list, certificate of conformity, installation and operation instructions, electrical wiring diagrams and instructions for the main components and equipment used in the product, key operation tools and according to the agreement.
Substation Structure Diagram
Ordering Instructions
The following information must be provided when ordering:
◆Substation model and quantity;
◆Model and quantity of transformer;
◆ High-voltage and low-voltage primary wiring scheme and main component models and parameters;
◆ Material and color of shell.