Use
ZYDFW-12 series outdoor ring network cabinet is an inflatable outdoor ring network cabinet with international first-class standards developed and produced by the company using foreign advanced technology, according to the characteristics of China's regional power distribution network and the actual situation of urban distribution network cable transformation. ZYDFW-12 series outdoor ring network cabinet adopts SM6-12/24 series SF6 fully sealed and fully insulated ring network switchgear. The switchgear has the advantages of modularity, scalability, full insulation, full sealing, safety and reliability, maintenance-free, etc. It is suitable for any harsh environment and is widely used in industrial parks, residential areas, streets, airports, various buildings, bustling commercial centers and other places.
ZYDFW-12 series outdoor ring network cabinet standard voltage level 12kV, 24kV, can expand the distribution network automation function, realize the intelligent ring network cabinet, make the power grid stronger and smarter.
Model Meaning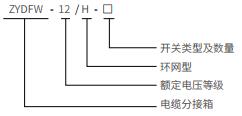 normal conditions of use
Ambient temperature: the highest temperature +50 ℃, the lowest temperature -40 ℃, the highest daily average temperature does not exceed 35 ℃;
◆ Relative humidity: daily average value is not more than 95%, monthly average value is not more than 90%;
◆ Wind speed: no more than 35 m/s;
◆ Pollution grade: Grade III; ◆ Earthquake intensity: 8 degrees;
◆Ground inclination: not more than 3 degrees;
◆ Installation location: Install in a place with no fire, explosion or severe vibration, good ventilation and no corrosive gas. Special conditions
When the equipment is installed at an altitude of more than 2000 meters, it should be specially noted so that the company can adjust the SF6 pressure during manufacturing.
◆ If special bad conditions are involved, please be sure to consult the company.
Product Features
high security
are enclosed in SF6 gas box to achieve full sealing and full insulation;
is equipped with mechanical interlocks that meet the five prevention requirements to prevent misoperation;
The incoming and outgoing cables are fully insulated and fully sealed and can be touched to ensure personal safety to the greatest extent;
box is equipped with an air pressure monitoring device to realize real-time monitoring of air pressure during operation;
gas tank, which has passed the internal combustion arc test of the authoritative organization.
program
The way of incoming and outgoing lines is flexible, which can realize left, right and lower incoming (outgoing) lines;
, all units can be achieved between any combination, unlimited expansion;
The built-in bus extension mode is adopted to fully meet the usability, economy and aesthetic requirements;
design scheme is flexible and can meet the requirements of users on site.
compact and reasonable structure
all the unit module size (except metering module), compact size at the same time does not affect the convenience of construction.
economy
Maintenance-free; small footprint, high cost performance; service life of more than 30 years.
widely used
The stainless steel plate of the gas box is fully automatic TIG sealed and welded by the robot, and the protection level reaches IP67. It can be installed in humid, dusty, salt, mines and any air pollution places without taking special preventive measures.
product intelligence
can provide electric operating devices, distribution automation terminal equipment, intelligent switching equipment with "four remote" functions, and meet all the requirements of the smart grid for such equipment.
| | |
| --- | --- |
| GB 1984-2003 | High Voltage AC Circuit Breaker |
| GB 1985-2005 | High-voltage AC disconnectors and earthing switches |
| GB 3804-2004 | 3.6kV ~ 40.5kV HV AC Load Switch (IEC60265) |
| GB 16926-2009 | AC high voltage load switch fuse combination apparatus (IEC 60420) |
| GB 3906-2006 | 306kV to 40.5kV AC metal-enclosed switchgear and controlgear (IEC 62271) |
| GB/T11022-2011 | high-voltage switchgear and controlgear standards (IEC 60694) |
| GB/T11023 | high-voltage switchgear sulfur hexafluoride gas sealing test method |
| GB 4208-2008 | enclosure protection class (IEC 60529) |
| DL/T404 | 3.6kV ~ 40.5kV AC metal-enclosed switchgear and controlgear |
| DL/T 728-2000 | gas-insulated metal-enclosed switchgear |
| Q/CSG 10012 | China Southern Power Grid |
State Grid Corporation of China Material Procurement Standard-General Technical Specification for 12kV and 24kV Ring Network Unit Product Reference Standard
Technical parameters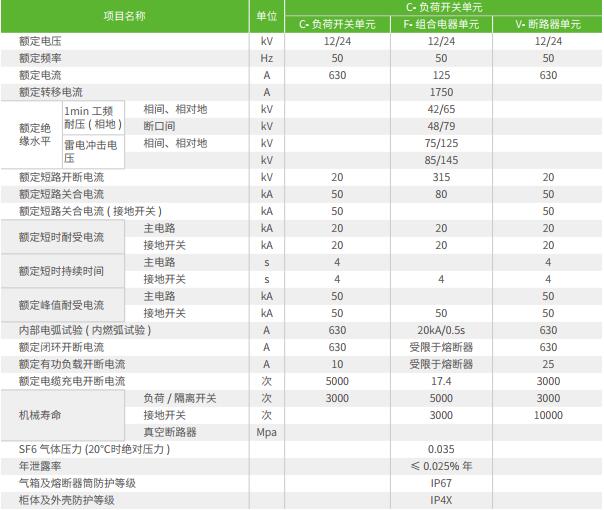 Product Structure
① Shell of outdoor ring network cabinet
is made of stainless steel (≥ 2.0mm), SMC, GRC and other materials, which can be customized according to user requirements, flexible door opening mode, waterproof rubber strip at the door gap, so that the overall protection level reaches IP4X and meets the requirements of outdoor environment.
② Barometer
is used to monitor the SF6 gas pressure in the gas box in real time, and can be configured with dry contacts to alarm when the gas pressure is too low or too high.
③ Gas box of switch unit
gas box is made of 304 stainless steel (3.0mm) and welded by a fully automatic manipulator. It can withstand the pressure of SF6 gas in the box and the protection level reaches IP67. Air box through the nitrogen mass spectrum vacuum leak detection equipment for leak detection, drying and inflation, to ensure the sealing of the box.
④ switch cabinet
adopts three-station load switch to reduce the volume of the cabinet; SF6 gas is used to extinguish the arc to improve the reliability of equipment operation.
⑤ Communication control cabinet
is used to install communication equipment such as DTU switches and optical terminals.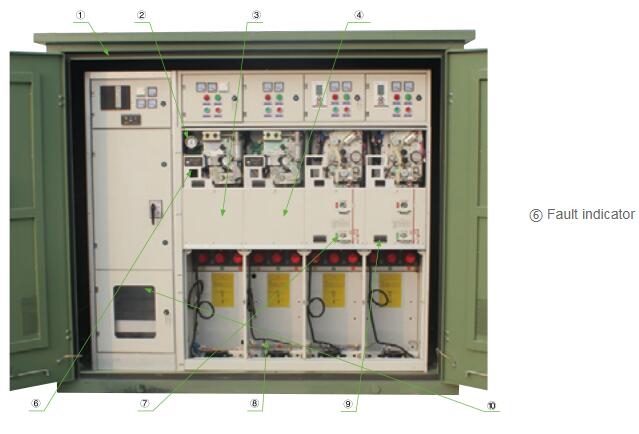 is used to detect the short circuit and ground fault of the line, which is convenient for fault location and provides the basis for the future distribution automation.
⑦ Earthing switch is used for maintenance.
⑧ is used to observe the operation of the cable room and provide the greatest convenience for operation and maintenance.
⑨ The charged display is used to indicate the charged condition of the loop cable, and has a nuclear phase hole for supporting use with a special nuclear phase.
⑩ pt and automation cabinet
is used to install PT and distribution automation terminal devices. It is made of stainless steel and is connected with a fully sealed and fully insulated plug-in head.
Main accessories
Box
The outer shell of the outdoor ring network cabinet is designed according to the outdoor structure. The box material can be stainless steel plate, SMC or GRC according to customer requirements. The surface is sprayed with plastic and has sufficient mechanical strength. The surface of the box body has no fasteners for disassembly and has good anti-theft property. The top cover is of double-layer structure with air sandwich type, with air vents, natural convection ventilation, heat insulation and good heat dissipation. Rainproof door lock, limit hook when opening, the box body is provided with a sealed bottom plate for the cable inlet and outlet to prevent small animals and moisture from entering the box body. The appearance and color of the box body can be customized according to the needs of users, with beautiful appearance and coordination with the surrounding environment.

switch unit
ZYDFW-12 series outdoor ring network cabinet is the SKR-12 series fully sealed and fully insulated ring network switchgear produced by our company. The switch has the advantages of modularity, unlimited free expansion, compact structure, small size, maintenance-free, etc. Each functional unit and function description
Unit C: load switching unit, mainly used for 12kV and 24kV distribution network cable outlet connection, branching, breaking and control, etc;
F unit: load switch + fuse combination electrical unit, which is applied to the control and protection of terminal distribution transformers with 1250kVA and below capacity in 12kV and 24kV distribution networks. V unit: vacuum circuit breaker unit, which can be used not only for the connection, branching, segmentation, control and protection of 12kV and 24kV distribution network cable lines, but also for the control and protection of larger capacity distribution transformers.
this unit is equipped with microcomputer-based relay protection device, which can realize over-current protection and other functions.
D unit: cable incoming cabinet without switch, used for connection of incoming and outgoing cables, and direct connection of incoming and outgoing cables with bus.
SV unit: bus coupling cabinet, used for connection between sectional buses.
M unit: metering cabinet, used for electric energy measurement, can be combined with any other kind of cabinet body.
PT unit: voltage transformer cabinet, used for installing PT, automatic terminal device and backup power supply, etc.
cable tap box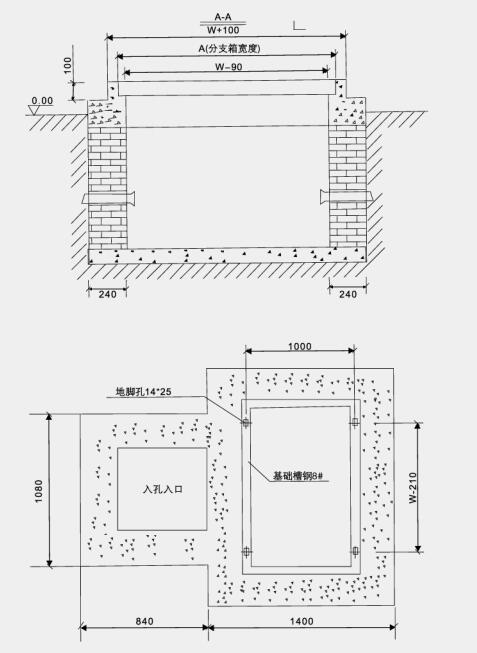 Ordering Instructions
◇ Product model, users have special requirements can provide a map;
◇ Standard section of incoming and outgoing lines and branch cables;
Number of selected lightning arresters and short-circuit fault indicators;
The material and color of the shell.