European cable distribution box
European cable distribution box is widely used in power distribution network system in recent years, the cable engineering equipment, its main features are two-way door, the use of docking sleeve as a connecting busbar, with a small length, cable arrangement clear, three-core cable without large span cross and other significant advantages. The cable joints used meet DIN47636 standards.
Generally use 630A rated current bolt fixed connection type cable joint.
Model Meaning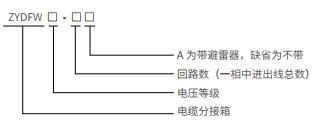 Normal use environment
ambient temperature: maximum temperature: +40 ℃, minimum temperature -30 ℃
wind speed: equivalent to 34 m/s (not more than 700Pa)
humidity: the average daily relative humidity is not more than 95% and the average monthly relative humidity is not more than 95%
shockproof: horizontal acceleration is not more than 0.4m/s2, vertical acceleration is not more than 0.1 5m/s2
installation location: not more than 3 °
Installation environment: the surrounding air should be free from corrosive, flammable gas, water vapor and other obvious pollution, the installation site without violent vibration.
When ordering this product beyond the above conditions, please consult with our company.
technical parameters
| | |
| --- | --- |
| Rated voltage | 12kV |
| Rated current | 630A |
| Dynamic stable current | 50kA/0.3s |
| thermal stability current | 20kA/3s |
| 1 Minute of Work | 42kV |
| 15 minutes DC withstand voltage | 52kV |
| Lightning impulse withstand voltage | 105kV |
| Cabinet protection class | IP33 |
Structure Description
1. Upper side door
2. Casing bracket
3. Cable terminal
4. Lower box
5. Cable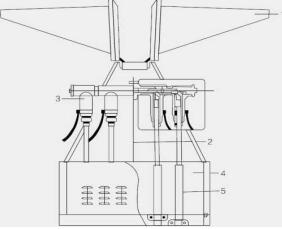 ZYDFW-12 series cable tap box is outdoor design, fully sealed structure, fully insulated, dustproof, moisture-proof, flood-resistant, corrosion-resistant, and strong environmental adaptability. Cabinet protection grade up to IP33. The cable joint bracket is made of stainless steel, and the shell is made of stainless steel plate or cold rolled plate spraying.
cable connector bracket is located on the upper part of the tap box to support the sleeve, which is used to fix the cable connector. If it is equipped with a lightning arrester, the lightning arrester is installed at the end of the cable connector. In addition, short circuit fault indicator and live display are also installed in the tap box. All live parts of the main circuit in the box shall be insulated by prefabricated plug-in cable terminals. The cable partition is located in the lower part of the box and has cable fixing clips and grounding terminals. The box has reasonable layout, small size, compact structure, beautiful appearance, simple installation and maintenance-free.
European cable tap box foundation diagram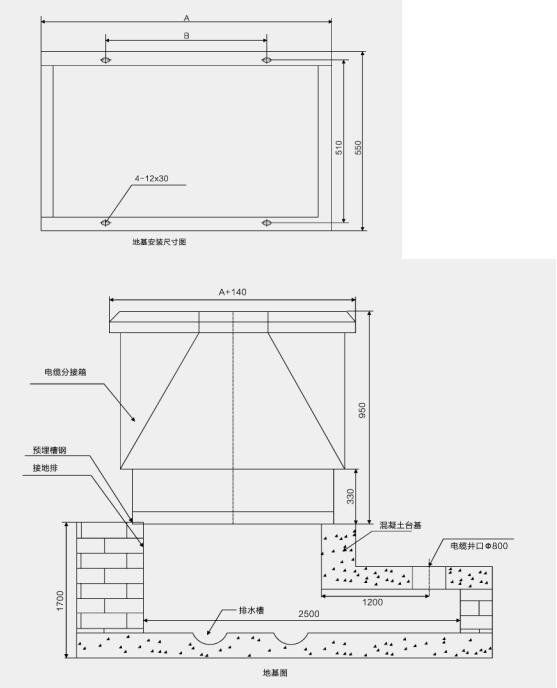 Recommended parameter values
| | | | | | | |
| --- | --- | --- | --- | --- | --- | --- |
| number of branches | 2 | 3 | 4 | 5 | 6 | 7 |
| A | 580 | 700 | 820 | 940 | 1060 | 1180 |
| B | 180 | 300 | 420 | 540 | 660 | 780 |