Product details of the three phase distribution transformer
Quick Overview
An innovative element is added into the design of Ville Transformer three phase distribution transformer. The product is of the quality that meets the most demanding needs of customers. Ville Transformer's three phase distribution transformer is widely used in the industry. The product keeps track with the market development and has been well accepted by the customers.
Product Description
Compared with similar products, the three phase distribution transformer of Ville Transformer is more strict in the selection of raw materials. The specific aspects are as follows.

| | | | |
| --- | --- | --- | --- |
| Model NO. | XKSSP-18000/33 | Shape of Core | Ring |
| Cooling Method | Oil-immersed Type Transformer | Brand | Ville |
| Winding Type | Multi-winding Transformer | Transport Package | Wooden Case |
| Certification | ISO9001-2000, ISO9001 | Specification | IEC |
| Usage | Series Furnace Reactors | Trademark | Ville |
| Frequency Characteristics | High Frequency | Origin | China |
| Production Capacity | 50000 Sets/Year | HS Code | 85 |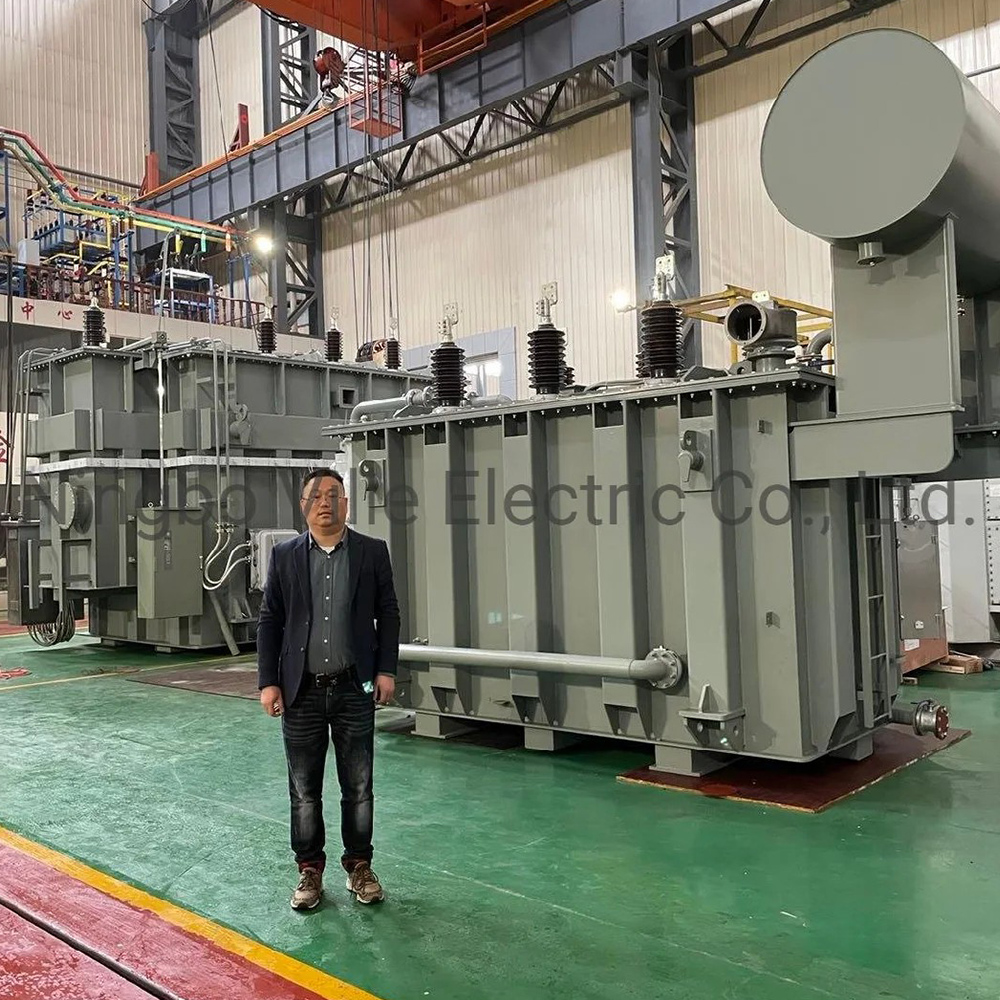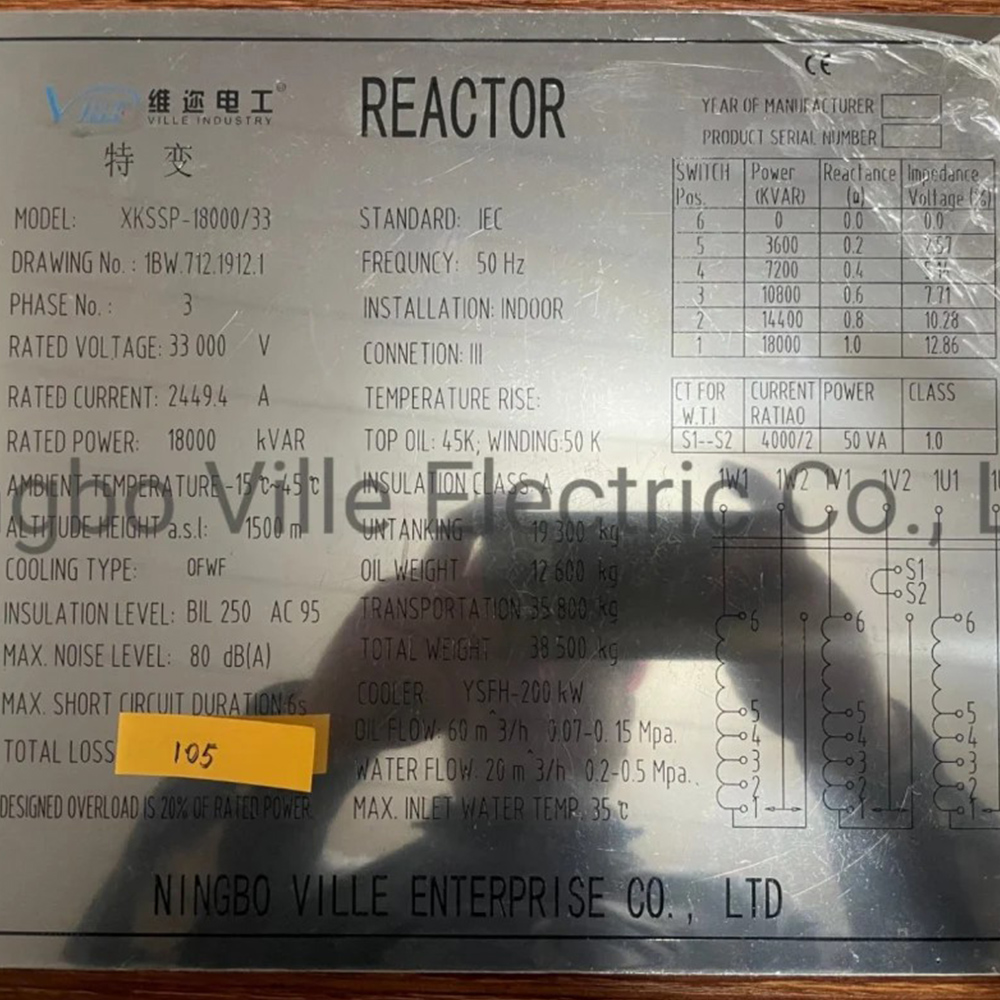 1.1.1 GENERAL TECHNICAL DATA
Highest voltage
36kV
50Hz
Operating voltage
33 kV±5%
50Hz
Voltage for aux. drivers
380V
50Hz
Control voltage
220V
50Hz
Interlock voltage
220V
50Hz
PLC signals
24V
DC
Ambient temperature max./min.
45 / - 10
Deg. C
Altitude
1500
m
Humidity
80
%
1.1.2 TRANSFORMER DATA
Operating voltage
33kV±5%
Frequency
50Hz ±1%
Operation
Continuously
EAF transformer rated capacity
MVA (+ 20% Overload)
Rated current
2449.4 A (+ 20% Overload)
Reactor Rated Power
18 MAVR (25.92 MVA Overload)
Reactance in normal tap
1 Ω
Number and ratio of taps
6 taps:100%-80%-60%-40%-20%-0
Insulation levelWinding:Um:AC:BIL:
Full insulationHV 52 kV 95 kV 250 kV
Protection level
IP54
Vector group
III
System short circuit capacity
1500 MVA
Short circuit duration
6 sec
Short circuit times
2.5 times
Regulation method
Off circuit
Type of tap changer
NLTC Off -circuit motor drive
Manufacturer
Shanghai Huaming / China (ZUNYI)
Model
2*ZWL III-1600/40- 6 taps
Number of taps
6
Reactor Winding Materials
Copper
Cooling Type
OFWF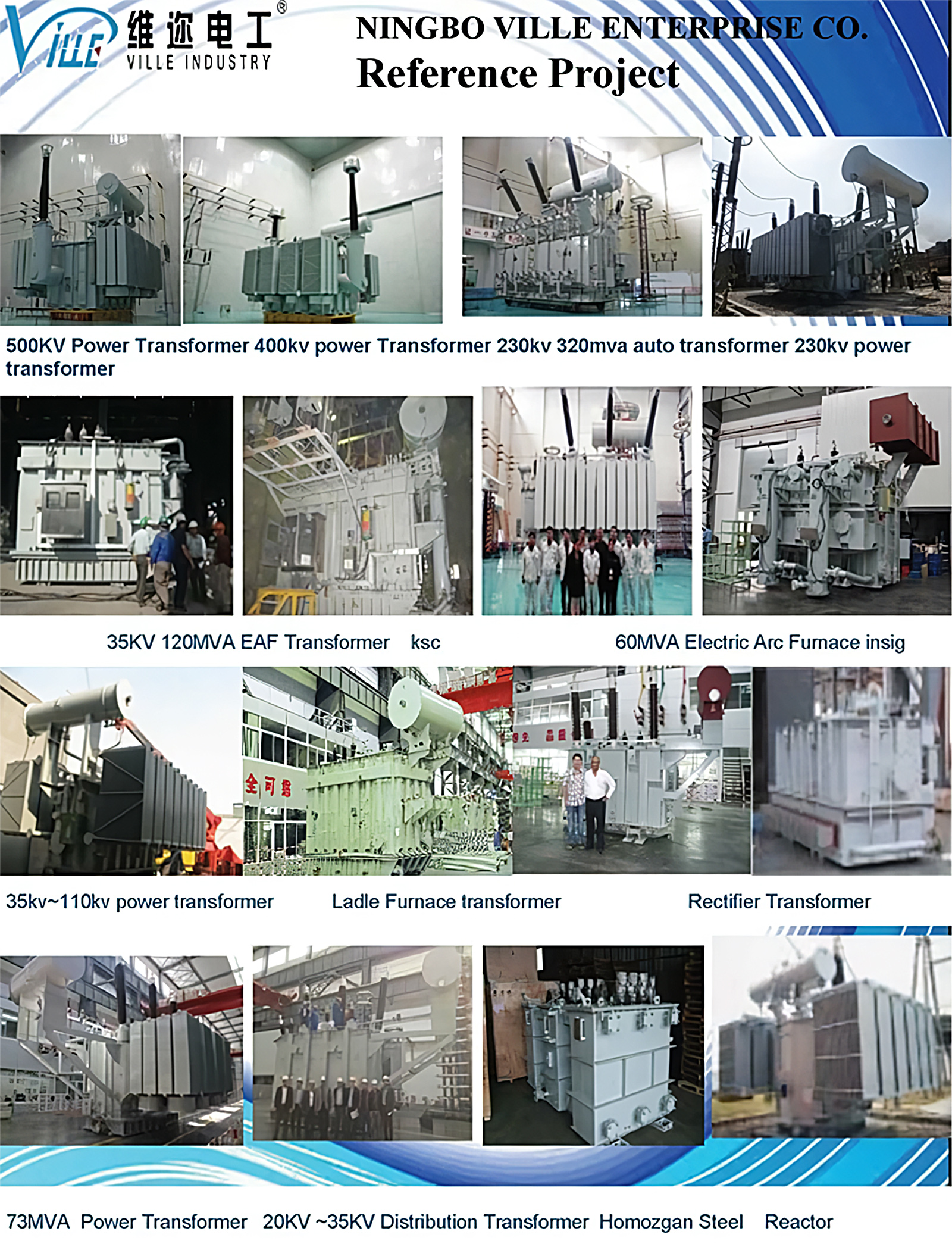 Company Introduction
INGBO VILLE ENTERPRISE CO.,LTD. is a professional manufacturer of three phase distribution transformer. Our company has established a professional R&D base to provide professional technical support. We adhere to professional service and superior quality of three phase distribution transformer. Inquire!
Our products are all qualified and are sold directly from factory. Welcome friends from all walks of life to contact and consult us.