Product details of the furnace transformer
Product Description
The design of Ville Transformer furnace transformer adopts advanced concept that exceeds the market. The performance of the product is recognized by the third party authorities. For INGBO VILLE ENTERPRISE CO.,LTD., we always focus on innovation and upgrading of product strength.

Model NO.
ZS-1000KVA 0.66KV
Specification
IEC, CE
Cooling Method
Oil-immersed Type Transformer
Trademark
VILLE
Winding Type
Two-winding Transformer
Origin
China
Certification
ISO9001-2000, ISO9001
HS Code
86
Usage
Rectifier Transformer
Production Capacity
500sets/Month
Frequency Characteristics
Intermediate Frequency
Packaging & Delivery
Shape of Core
Ring
Package size per unit product
1.00cm * 1.00cm * 1.00cm
Brand
Ville
Gross weight per unit product
1.000kg
Transport Package
Wooden Case
◎ 1000KG medium frequency furnace system is used for the production of copper and copper alloy. It is powered by a set of single frequency converter not less than 800KW.◎ The power supply is composed of two coreless steel shell induction melting furnaces and auxiliary equipment required for normal operation of the system.◎ One parallel resonant output power supply with two electric furnaces.◎ The power cabinet and furnace body use their own independent closed-circuit circulating water system, which is completed by the user.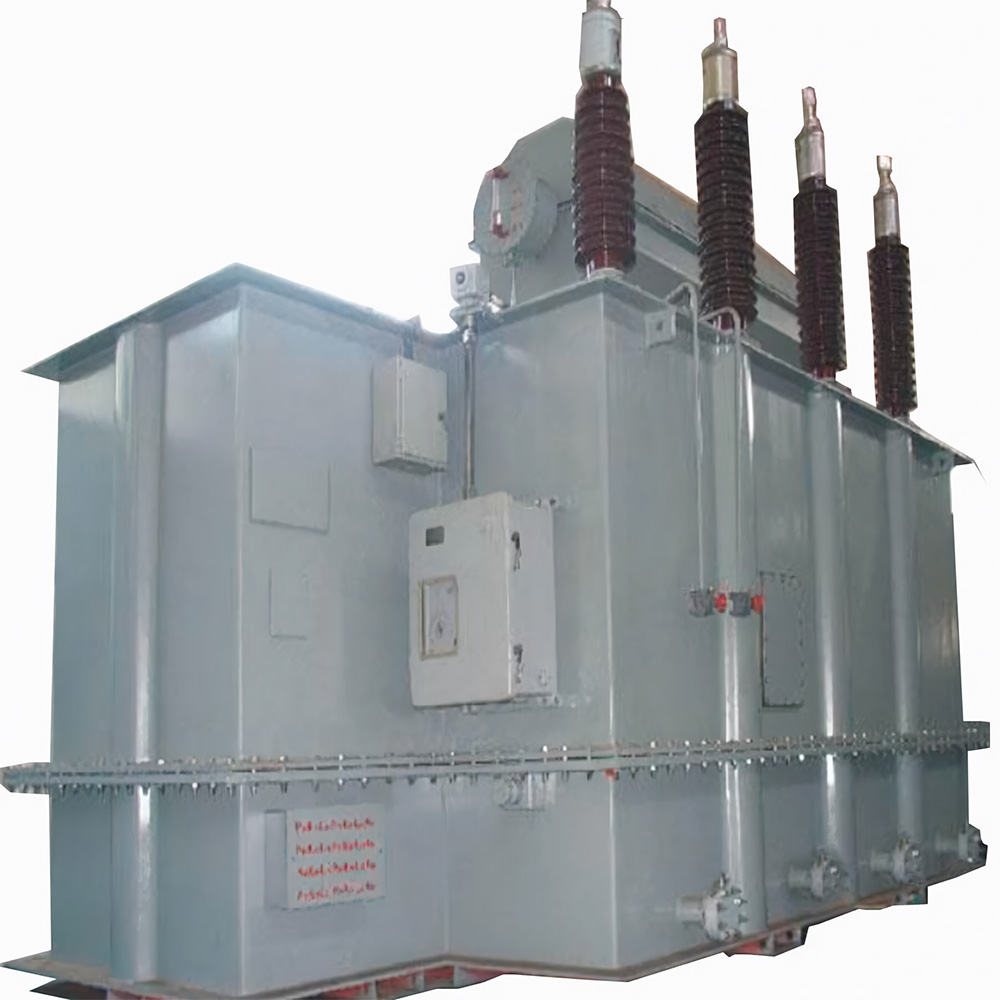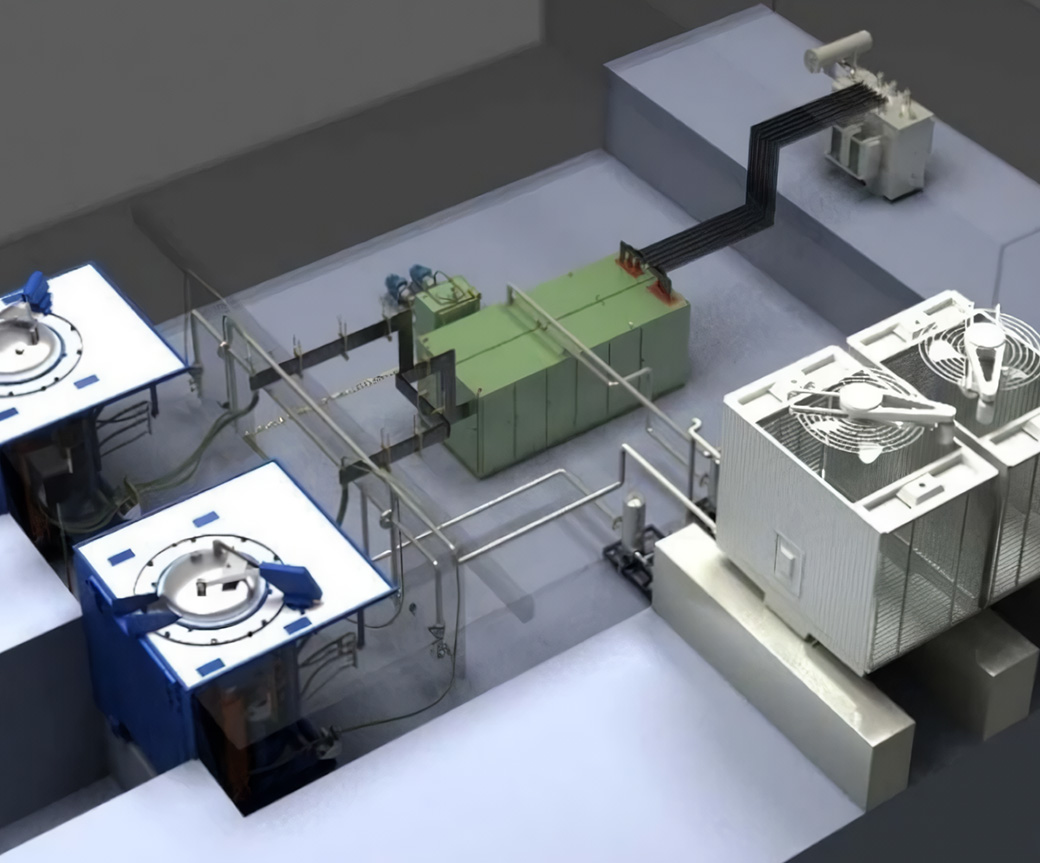 The project covers the process, design Manufacturing, supply, installation guidance, commissioning and function realization, mainly including 1 set of 1000KVA transformer, 1 set of medium frequency power supply not less than 800KW, 2 sets of molten copper steel shell furnace body, 1 set of furnace leakage alarm device, 1 set of reactive power compensation capacitor bank, 2 crucible molds, 1 closed cooling tower.The rectifier transformer is used to reduce the primary high voltage to a suitable medium frequency. The input voltage of the power supply adopts a special high impedance oil immersed self cooling type. The model of rectifier transformer is ZS series.
| | |
| --- | --- |
| Type | ZS series 1 set |
| Rated capacity | ≥ 1000 KVA |
| Number of phases | 3 phases and 6 veins |
| Rated frequency | 50Hz |
| Rated voltage | 10 kV at high voltage side; Low voltage side (1) 0.66kv |
| Voltage regulation mode | No-load magnetic voltage regulation, 5th gear |
| Tapping range | 10kV ± 2 × 2.5% |
| Connection group | dd0y11 |
| Short circuit impedance | 6% |
| Insulation level | li75ac35 / AC5 |
1) Cooling mode: oil immersed self cooling.2) Voltage regulation mode: no-load voltage regulation3) Transformer temperature rise: coil (resistance method) 65 ºCTop oil layer (thermometer method) 55 ºCOil tank and mechanism surface 80 ºC4) Shielding shall be added between high and low voltage windings, and the oil tank shell shall be reliably grounded through clamps.5) The insulation grade of transformer insulation material is class A.6) Short circuit impedance, no-load loss and load loss are based on the rated capacity of fundamental wave.7) A magnetic separator plate or magnetic strip shall be installed between the low-voltage porcelain bushing and the box8) Low voltage transformers are connected by copper bars.9) The radiator of rectifier transformer adopts chip radiator.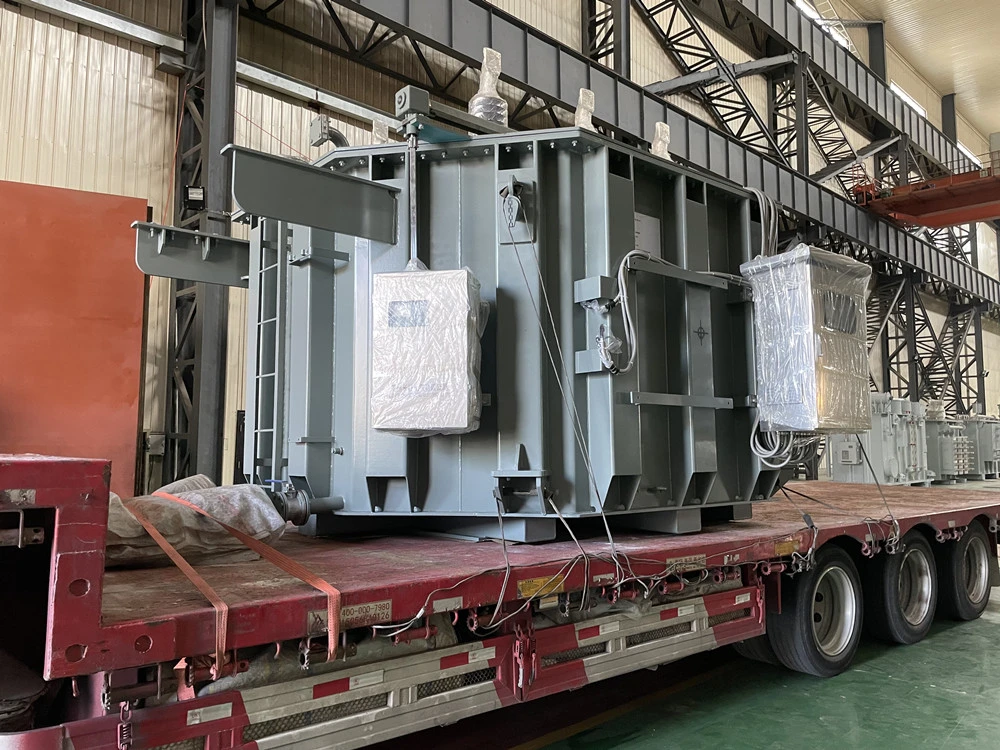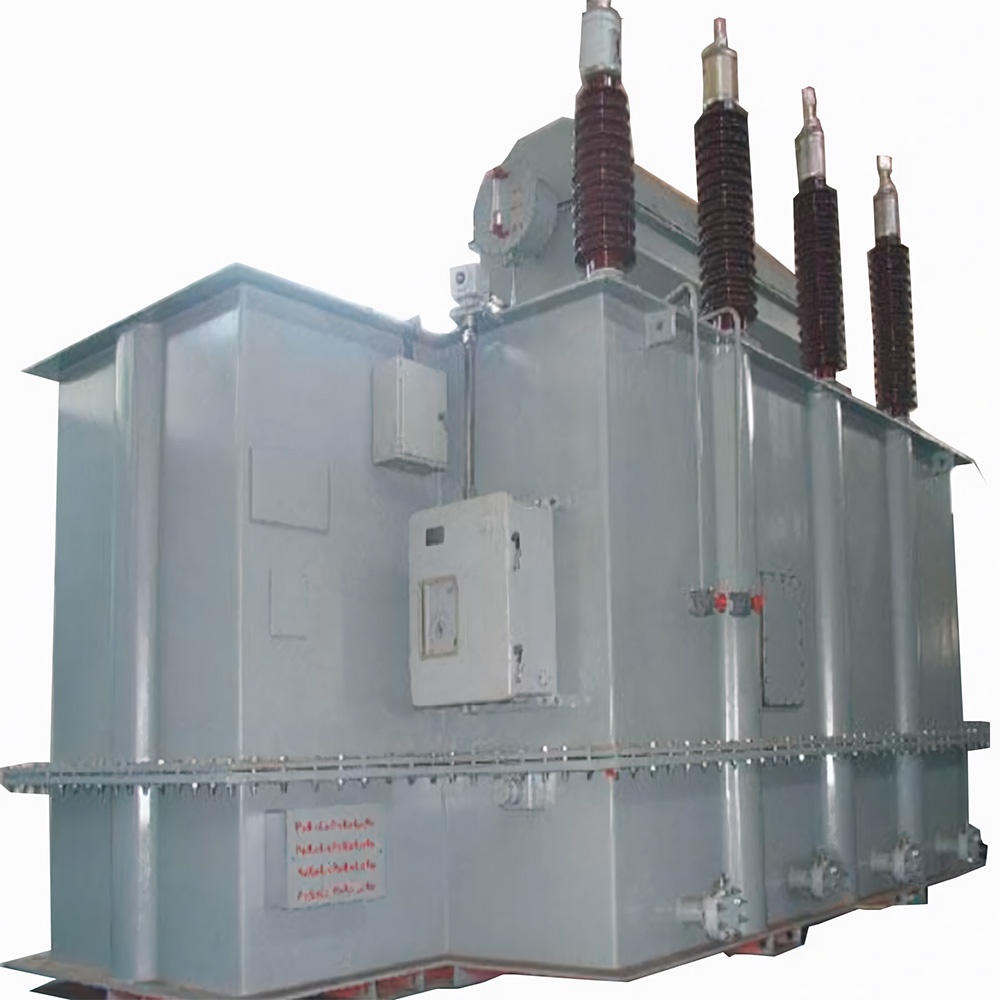 10) The transformer is equipped with an oil sample valve, and there is an oil drainage device at the bottom of the transformer oil tank.11) The sealing ring of transformer adopts acrylate rubber to ensure that the transformer works at the highest temperature and the lowest temperatureThere is no oil leakage.12) The transformer core is made of high-quality cold-rolled silicon steel sheet of WISCO, and bound with 45 ºC full inclined seam glass ribbon without holesStructure. The coil adopts high-quality oxygen free copper electromagnetic wire. It can withstand short circuit, unexpected temperature rise, noise and vibrationLoad iec551.13) The transformer shall be filled with vacuum oil to completely remove the moisture in the insulating material.14) The oil tank surface adopts phosphating and electrostatic spraying process after spray treatment.15) Overload capacity: 125%, 2 hours; 200%, 10 seconds. When 110% of the rated voltage, it can be operated for a long time under no-loadthat 's ok. At 105% of rated voltage, it can operate for a long time under rated current.16) Noise level: noise ≤ 60dB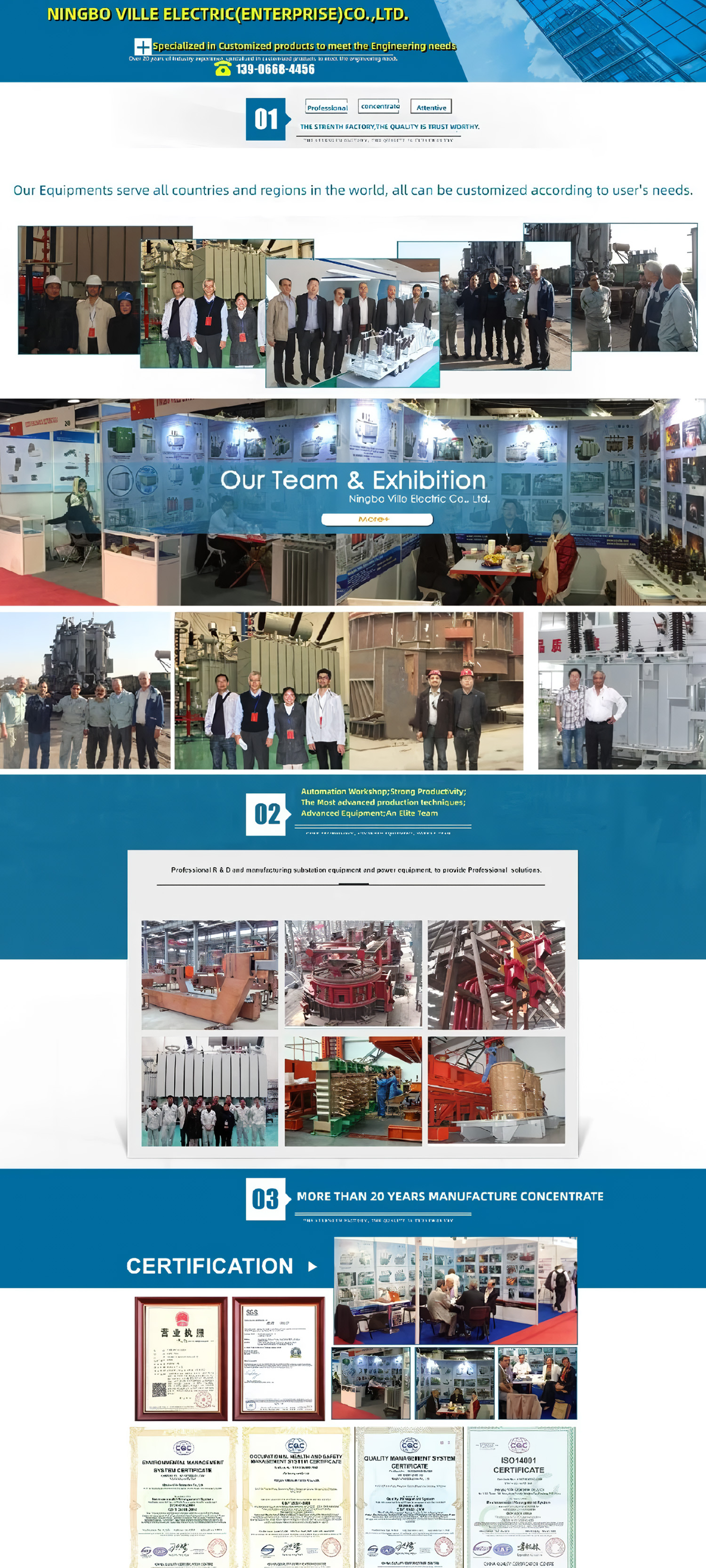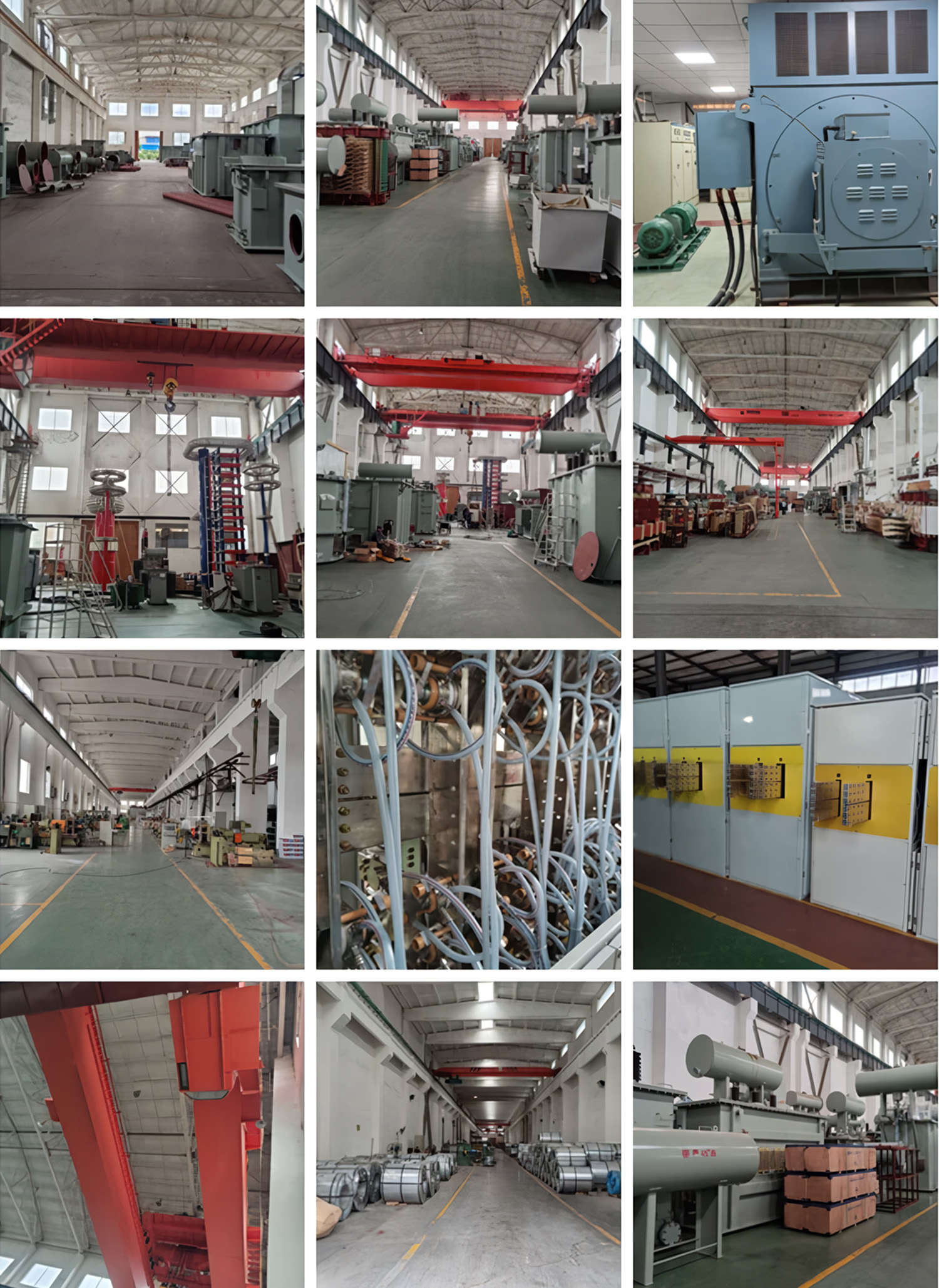 Company Feature
• Based on user experience and market demand, Ville Transformer provides one-stop efficient and convenient services as well as good user experience.
• Ville Transformer's location enjoys advantageous geographic condition with open and unimpeded traffic access. This creates convenience for us to deliver various transformer in time.
• The sales network of our products is spread all over the world.
• Our company has a strong overall talent resources including a large number of employees, many experienced technical personnel, and high-quality management personnel.
Welcome to visit the product center of Ville Transformer. If you have any questions, please contact us directly for consultation!