Product details of the electric arc furnace transformer
Quick Overview
The variety of electric arc furnace transformer design sells well all over the world. The product excels in meeting and exceeding quality standards. The electric arc furnace transformer managed by Ville Transformer is widely used in industry. INGBO VILLE ENTERPRISE CO.,LTD. aligns service behaviors with business objectives.
Product Introduction
The following are the electric arc furnace transformer's details presented to you by Ville Transformer. And it can help you better understand the product details.

| | | | |
| --- | --- | --- | --- |
| Model NO. | XKSSP-30000/33 | Ladle Furnace | Lf Transformer |
| Cooling Method | Oil-immersed Type Transformer | Furnace | Steel Plant |
| Winding Type | Multi-winding Transformer | Transport Package | Wooden Case for Accessories |
| Certification | ISO9001-2000, ISO9001 | Specification | IEC, CE, ISO |
| Usage | Electric Arc Furnace Transformer for Steel | Trademark | VILLE |
| Frequency Characteristics | High Frequency | Origin | Ningbo China |
| Shape of Core | Ring | HS Code | 8504231100 |
| Brand | Cnville | Production Capacity | 50000 Sets/Year |
Main function and characteristic
Electric furnace transformers are transformers which supply power to the electric furnaces. It can drop high voltage to the working voltage the electric furnaces need.
There are many kinds of electric furnaces,so there are many kinds of electric furnace transformers cooperating with them.Now,our company manufactures following electric furnace transformers:electric furnace transformers used in steelelectric furnaces(including on-laod,no-load and enclosed reactor) ; mineral hot furnace transformers used to smelt kinds of iron alloys, hydrosilicons, carbides, etc(single phase, three phases on-load and no-load tap changer). They are low loss and energy-saving products.Cooling methods are self-cooling, forced oil water cooling, etc.It can be designed specially according with customers' requirements.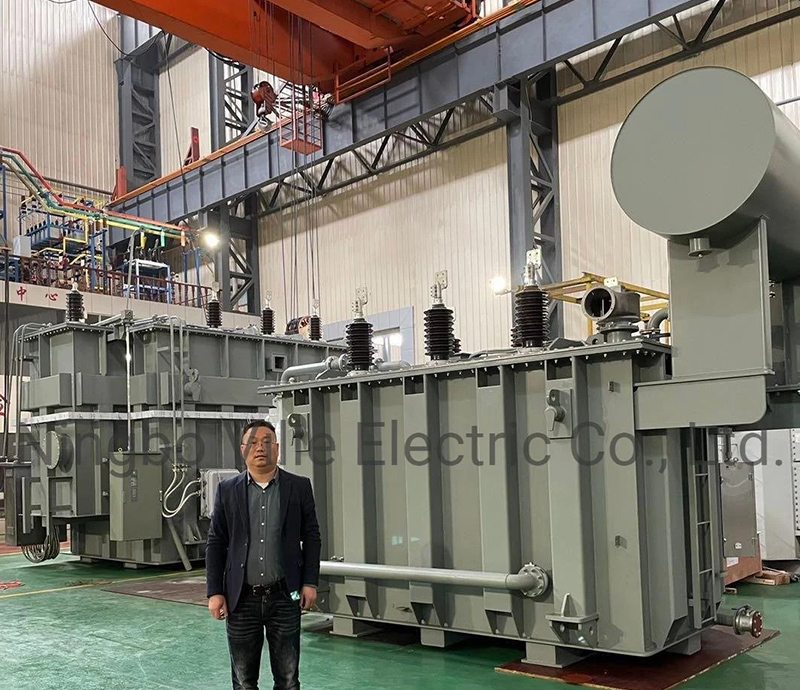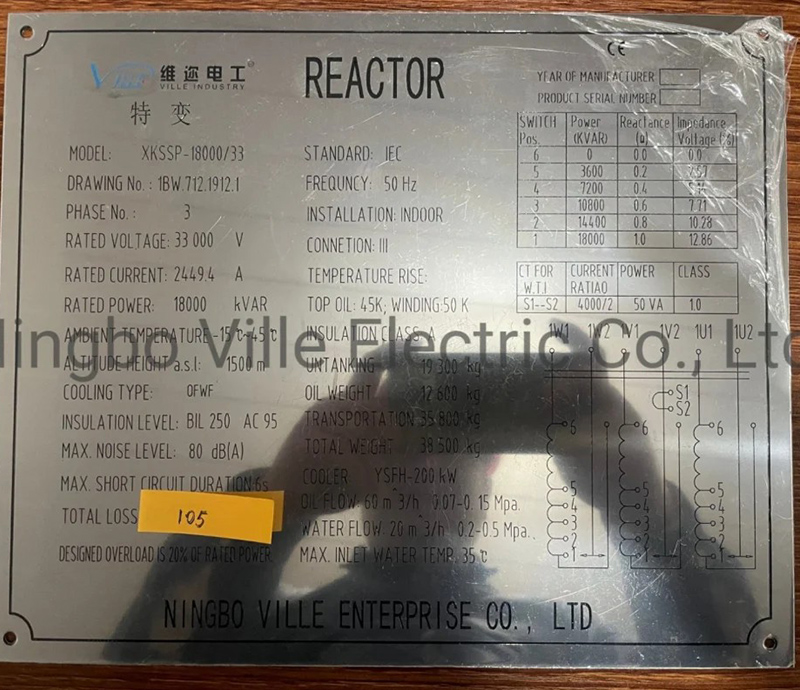 H--Steelmaking arc furnace,HJ--ladle furnace,HZ--electro-slag furnace,HC--calcium carbide furnace,HK--mineral hot furnace,HG--line frequency induction furnace;Number of phase: D--single phase,S--three phase;Types of cooling device: ONAN,wind cooling F,water cooling S.The methods of oil circulation:Natural circulation,forced oilcirculation P.Tap changer: Off-circuit tap changer,OLTC Z.Enclosed attached device: Changing leakage flux,enclosed reactor K.Rated capacity: KVA.Voltage class: KV.
Transformer Specification
Rated Power: 33MVA
OverLoad Power: 33MVA
Rated Voltage HV
Winding: 33KV Rated Voltage LV Winding: 260V~450VFreq: 50Hz
OnLoad Tap ChangerOFWF CoolingConnection Symbol: Yd5
Order InstructionsWhen you choose our company product, please offer following data:Transformer model: Rated capacity: kVAPhase: Three-phaseSingle-phaseFrequency: 50HZ, 60HZ
Rated voltage ( H.V. / L.V. ) Tapping range: ± , × , %Insulation level: LI, AC / LI, AC, kvVeotor group: Dyn11, Yyno, OtherShort-circuit Impedance: %Cooling method: ONAN, ONAFTapping method: OLTC, OCTC, OtherOther requirement Notes:We also can design special products according to customer's particular requirements.
Company Advantages
INGBO VILLE ENTERPRISE CO.,LTD. successfully grasped the trends to utilize its technology to produce the most popular electric arc furnace transformer. Our company has employed highly qualified staff. Each and every one of them has a high level of motivation and professionalism, which marks our differentiation in the electric arc furnace transformer industry. It is Ville Transformer's responsibility and mission to create quality electric arc furnace transformer. Check now!
We value honesty greatly and always keep the promise. And our products are complete in kinds and reliable in quality. If you have any needs, feel free to contact us at any time.